How Much Does an App like Practo Cost?
Practo is the first online healthcare appointment booking system in India. This platform based venture allows people to connect with the right doctors at right time in taking appointment. People can take an appointment from 200,000+ verified doctors across India, USA, Malaysia, Philippines, and Singapore. The appointment can be taken of doctors, diagnostic labs, fitness centers, spas or saloons. Today, Practo is one of the most promising and recognized startups in India.
FuGenX, a global mobile app development company in India and USA, helps entrepreneurs to develop Oyo Rooms like app with innovative features. FuGenX has years of strong experience in building platform based mobile apps.
About Practo App:
Practo App can be downloaded from Google Play Store or Apple App Store. People can also get doctor's appointment through the company's website.
Key Features of Practo App:
Quick and easy login/registration
Easy options to choose from doctors, spas and diagnostic labs
Check with previously booked appointments
Facility to ask free health related questions to doctors
Search for a doctor based on area, availability, disease or specific treatments
Option to look up preferred doctor's qualifications, consultation fees and general feedback from their patients
Option to have paid private online consultation session with a doctor
Exclusive health articles and health tips posted by health experts
Option to order medicine online
Opportunity to get a free Uber ride voucher before the appointment to consult doctor
Appointment cancellation and share app options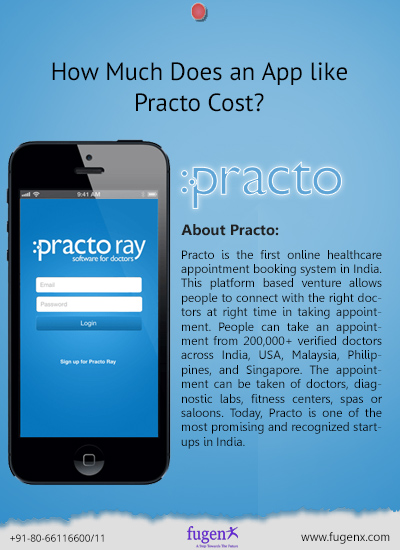 Development cost of Practo like app:
The real cost of Practo like app depends on the following parameters:
App Platform (Android, iOS (iPhone), or Windows):
This is one of the major cost deciding factors of Practo like app. There is a significant difference between the platforms in terms of cost of the app development. Android app development is relatively higher than iOS app development.
App Design
Good app design generally requires increased cost. Good app design means engaging user-interface and user-experience design. Without good design, it is difficult to engage users.
App Size:
App size means the total number of features and functionalities that the app will contain like doctors and patients database, articles, and continuously posting queries by patients and suggestion by doctors on that.
To get instant quote for Practo like app development, Feel free to reach us at info@fugenx.com or fill up the form.