How Much Does an App like Pinterest Cost?
Pinterest is a catalogue of ideas that inspires users to "go out and do that thing." It is a collection of the things that you store by gathering from the web. You can upload, save and enjoy different collections. And also you can organize all the information that you collect. Every collection you made can be pinned to a pinboard, which is called pin, which can be shared with other users. Pinterest helps users discover various hacks and fresh ideas, learn about brands and products, create personal portfolios, and offers many more tangible benefits. It allows businesses to create pages aimed at promoting their business online.
Launched in March 2010, today Pinterest is one of the most recognized online brands. And it has won many awards since its inception, including Best New Startup of 2011, best social media app and people's voice award in 2012.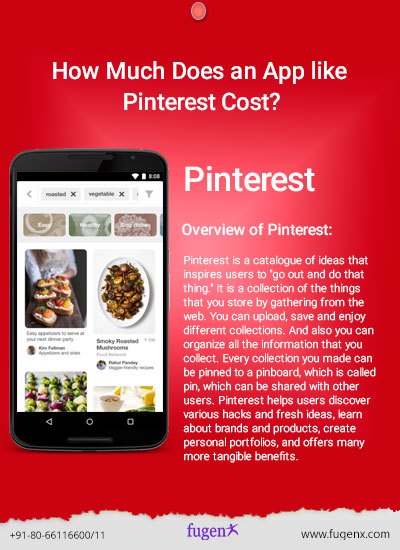 Key features of Pinterest app:
One can find everyday ideas he loves—what to make for dinner, what to wear for event, and every idea he wants in his life.
The ideas can be saved for later, which can be organized by topic.
Collaborating with friends is easier with Pinterest—ideas can be saved together for the next group trip, party or project.
You can search for an idea even if you don't know what it's called—built-in search guides enables it
You can save ideas you find around the web by just using the Pinterest's Save button
Cost deciding factors of Pinterest app:
The development cost of Pinterest like app depends on the following three major factors:
App design:
First impression is the best impression, if your app is not impressive in UI and UX design, it won't be able to attract and engage users. Good design obviously costs you more, but by following the best design practices, the design cost can be reduced for a large extent.
App platform:
The development cost of Pinterest app on iOS is not same as on Android. iOS is relatively cheaper than on Android as Android app development requires to be considered devices of multiple screen sizes.
App size:
App size means the total number of features and functionalities the app includes. The more features, the more will be the cost. By considering only core features for the version 1 of the app, the cost can be reduced.
How much FuGenX charges to develop Pinterest like app?
We at FuGenX are a Deloitte award-winning global mobile application development company. We develop game changing apps on iOS, Android, Windows and other trending platforms. Big Basket, Byju's and many other big brands believed us to take their business to the next level.
Reach us at info@fugenx.com or fill up the form to discuss your app idea.