How Much Does an App like Instagram Cost?
Instagram App is a mobile photo-sharing, and video-sharing app, which allows users to take real-time pictures and videos, and share them on different social networking platforms like Facebook, Flickr, Twitter, and Tumblr. Users can also apply digital filters for taken images to make it more attractive. Launched in October 2010, Instagram set a new trend in the world of social media, achieving over 100 million active users by April 2012. Today, Instagram app accounts around 400 million monthly active users.
Instagram was acquired by Facebook in April 2012 for approximately US$1 billion. Today Instagram app is an inspiration for hundreds of entrepreneurs to develop an app of its kind. Unlike other image sharing apps, Instagram is used by famous celebrities as well. This has elevated the development cost of Instagram like app drastically.
FuGenX, a global mobile app development company in India and USA, helps individuals and businesses to develop Instagram like app with highly advanced and innovative features.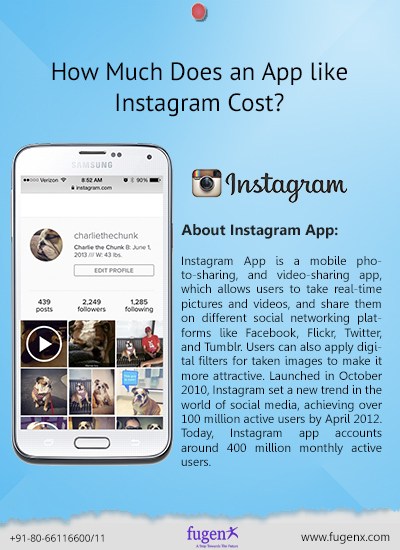 Features of Instagram App:
Take real-time pictures and videos, and share them on Facebook, Twitter, and Tumblr etc.
Customize photos and videos with free, custom-designed filters
Advanced creative tools to change image brightness, contrast, saturation, and shadows etc.
Option to follow people based on their photos that they love more
Send photo and video messages directly to friends personally
Real Development Cost of Instagram like App:
The actual cost of Instagram like app development depends on below key parameters:
App Platform (Android, iOS (iPhone), or Windows):
The development cost of Instagram like app may differ from platform to platform, but not much difference.
App Design
Since user interface and user experience design plays a vital role in Instagram like app, good design generally requires increased cost. The cost can be reduced with the best app design practices.
App Size:
App size means user database like name, photos and videos. It also includes app features and functionalities. The app size can be decreased in order to reduce cost by giving preference to core features in the version 1 of the app.
How much FuGenX costs to develop Instagram like app?
To get an instant quote for Instagram like app development, Please feel free to reach us at info@fugenx.com