How Much Does an App like OLX Cost?
OLX is a global classified company, allows easy buying and selling of second-hand goods locally. Founded in 2006, OLX operates in 118 countries. Now OLX extends its operations to other popular services like easy job search, home search and services search. People can avail OLX services through iOS, Android and Windows mobile apps, in addition to access through the website. OLX like app development is affordable.
Key features of OLX app:
Easy registration & login
One can post a free add with verified phone number
One can buy or sell products like mobile phones, electronic gadgets, cars, bike, property, furniture, fashion items and books etc.
Users can flier search to find preferred buyer/seller
Private chatting option with sellers, and safe negotiation about price
Option for users can get their car inspected by Mahindra Autoinspekt
Real-time alerts and notifications from other buyers & sellers who are nearby
Users are attracted with most popular and trending deals in their city
One can save ads or products that he wants to purchase in the near future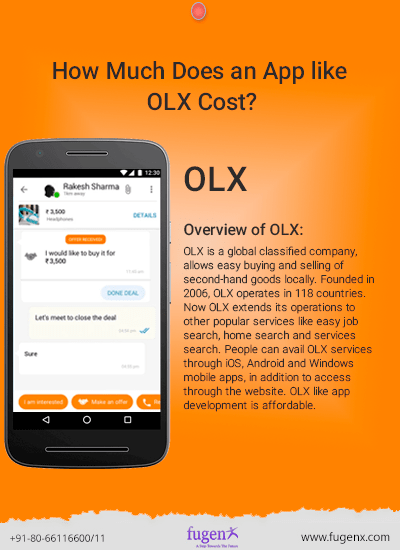 Real Cost of OLX like App Development:
OLX app comes under database app category and its cost depends on following key factors:
App platform (Android, iOS (iPhone) etc.):
The cost of OLX like app development for iOS is generally lesser than for Android, but not much difference.
App design:
In app design, UI and UX Designs are the very important elements that can get hold user interest in the app. Good design requires the effective use of advanced technologies, which generally costs more, but worthy.
App Size:
App size means the total number of features and functionalities in the app. You can reduce app size in order to reduce cost by giving preference to core features in the first step.
App developers:
OLX like app development charge may vary on the developers' location, experience and expertise.
How much FuGenX charges to develop OLX like App?
To get an instant quote for OLX like app, please feel free to reach us at info@fugenx.com or fugenx.com.