How Much Does an App like Flipkart Cost?
Flipkart is India's largest e-commerce company, which sells a wide range of products, including home appliances, mobiles, books, and fashion products. Though Amazon was the first major company to initiate e-commerce operations in India, the credit for making e-commerce popular in India goes to Flipkart. Flipkart is an inspiration for hundreds of Indian e-commerce ventures with diverse products.
FuGenX, a global mobile app development company in India, helps such e-commerce ventures to build Flipkart like app with innovative features.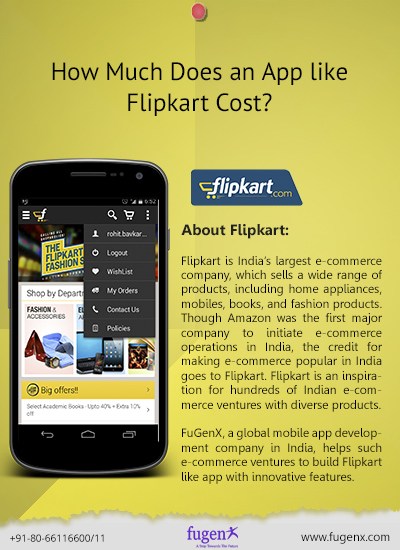 Key Features of Flipkart App:
Simple interface with easy to search column just below the menu
The menu consists of all product categories and sub categories available in the store
Notification section to check the recent notifications that the user has received about latest offers, and order status etc.
My Cart, which is in immediate right to notification section, allows users to view the products and proceed to buy that they had added to the cart earlier
Image search to easily find and buy products, secure payment options, and convenient order tracking
Ping, and Invite and Earn options to offer coupons for users
Register/login, wishlist, help centre, and legal information
How Much Does an App like Flipkart Cost?
Flipkart like app belongs to database app category, which is costlier than non-database app or simple app. The major factors that estimate the cost of Flipkart like app:
App Platform (Android, iOS (iPhone), or Windows):
This cost factor applies to all categories of apps. Though the Android app is generally cheaper at the app store than iOS app, surprisingly Android app development cost is more than iOS. It depends on various factors. But, in a few cases, iOS app development is expensive than Android.
App Design:
Good design is a very important factor in the success of Flipkart like app. Good design requires the use of the advanced technologies, which impacts on cost.
App Size:
App size is measured on the features and functionalities included in the app. More features and more functionalities may require more cost to be included. The cost can be reduced by giving importance only to core features first.
Flipkart like app can also be developed as web app. Its cost varies from mobile app (native app). Cross-platform app is another trending app development option.