How much does an app like Zomato Cost?
Zomato is a recognized restaurant search service provider in India. Founded in 2008, Zomato operates in 23 countries, including India, Australia and the United States. Zomato allows people to easily search restaurants around, online food ordering, and table reservations. Zomato covers over a million restaurants across 10,000+ cities. As an emerging startup, Zomato has received funds from many global companies and venture capital firms such as Info Edge India, Sequoia Capital, Vy Capital, and Temasek. Today Zomato is a role model for many young entrepreneurs who want to start Zomato like venture.
FuGenX, a global mobile app development company in USA and India, helps entrepreneurs to build Zomato like app with inventive features. FuGenX has proven experience in building many world-class platform based mobile apps.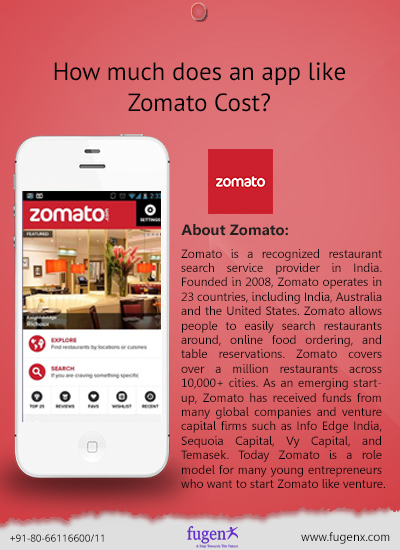 Features of Zomato App:
Restaurants information such as scanned menus, photos, restaurant location, phone numbers, directions, user reviews and ratings for restaurants
Easy search for Restaurants, Cafes, Pubs and Bars by location, cuisine, and name
Option to share about restaurant or food with friends and relatives
Table booking facility in few steps
Multi-payment systems, credit card, debit card, Paytm Wallet and many other options
Access to order history, favorite foods, and reservation history
Development Cost of Zomato like App
As it is a database app, Zomato like app's development cost is a bit higher than simple functionality app. The cost depends on following key factors::
App Design:
Zomato like app needs engaging design. Engaging or user friendly design can bring repeated customers. It requires the use of advanced technologies and tools. The cost may be relatively higher, but worthy.
App Platform (Android, iOS (iPhone & iPad), Blackberry, or Windows):
Zomato like app's development cost varies from platform to platform,and depending upon the features and functionality.
App Size:
The total number of features and functionalities decides the app size. The app size can be decreased by giving preference for core features in the version 1 of the app.
How much FuGenX charges to develop Zomato like app?

To get instant quote for Zomato like app, feel free to reach us at

info@fugenx.com