How Much Does an App like Tinder Cost?
Tinder is a location-based social dating app which allows people to find new people in the surrounding areas and to connect with them to chat and further for dating. It was one of the first swiping apps which user uses a swiping motion to select between the photos of interested profiles. Launched in 2012, Tinder achieved about one billion "swipes" per day by 2014. Tinder acquired the messaging company Chill in 2015. Today Tinder is one of the most popular dating apps in the world.
FuGenX, a global mobile app development company in India and USA, helps individuals or businesses to develop Tinder like app with highly advanced and innovative features.
Major Features of Tinder App:
Easy registration through Facebook account
Based upon his/her location, users will receive the profiles of preferred persons that depends on preferred age, location etc.
Option to like or dislike the persons
Mutually liked persons can chat personally
How Tinder like app can make money?:
In-app purchases
Ads
Premium plans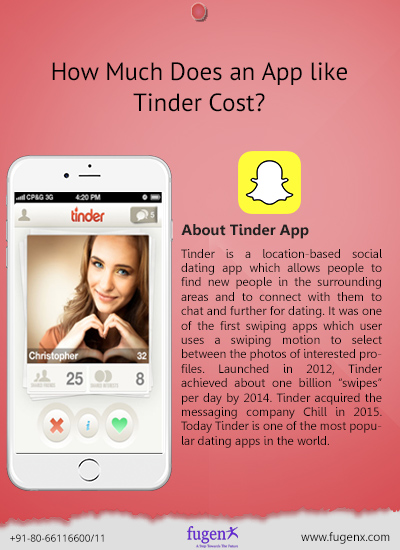 Development Cost of Tinder like App
The actual cost of Tinder like app development depends on the following factors::
App Design:
Good design generally costs more. But by making the best use of designing tools, the cost can be reduced.
App Platform (Android, iOS (iPhone & iPad), Blackberry, or Windows):
Tinder like app's development cost varies from platform to platform,and depending upon the features and functionality.
App Size:
App size means the total number of features and functionalities the app will have.
Note: The cost provided above is in average only, which may vary on platform, design, features and functionalities you will need.
How much FuGenX charges to develop Tinder like app?

To get instant quote for Tinder like app, feel free to reach us at

info@fugenx.com