How Much Does an App like Netflix (or YouTube) Cost?
Netflix is the world's leading subscription service for watching TV episodes and movies on multiple platforms. It streams licensed content and rents content on DVD and Blu-ray discs via mail. Customers pay monthly fees (one for streaming, and another for discs) and can stream or rent an unlimited amount of content.
Netflix holds around 86 million users globally, including 47 million users in US. The company is worth of US$ 6.78 billion. Netflix app is available on iOS, Android and Windows Phone platforms. The app is free to download, but costs for in-app purchases.
Key Features of Netflix App:
With the Netflix app, you can instantly watch as many TV episodes & movies as you want, as often as you want, anytime you want.
You get one month free trial for unlimited access to shows and videos.
You can watch thousands of new episodes instantly after the telecast.
You can start watching on one device, and resume watching on another.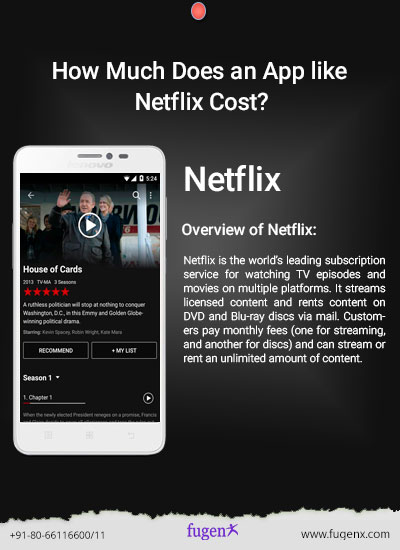 Factors that Decide the Cost of Netflix or YouTube like App
Netflix and YouTube apps come under database category apps, which require a heavy backend for break-free streaming of data. Other major factors that decide the development cost are as follows:
App features:
The more the features, the more will be cost. It is better to keep only core features in the version 1 of the app to reduce the cost. You can add the secondary features in the next version once the app is geared up.
App platform:
There is a variation between app on Android and iOS in terms of cost. Android is relatively costlier than iOS, as it needs to be considered for various devices of miscellaneous screen sizes.
App design:
Complex apps less encourage people to use the app again and again. So it is important to keep design simple and standard. So users can easily get the content they're looking for.
How much FuGenX charges to develop an app like Netflix or YouTube?
We at FuGenX are a Deloitte award-winning mobile application development company. We developed many breakthrough entertainment applications that are exciting and entertaining millions across the world.