How Much Does an App like Evernote Cost?
Evernote is a cross-platform app designed for note taking, organizing, and managing notes. The app allows users to create a "note" which can be a piece of formatted text, a full webpage, a photograph, a voice memo, or a handwritten "ink" note. Even the note can be attached with file(s). This trending app is available for multiple mobile and web platforms, including OS X, iOS, Chrome OS, Android, Microsoft Windows, Windows Phone, BlackBerry 10, and webOS. The app also offers online synchronization and backup services.
Evernote is available as freemium version and is free up to a certain monthly usage limit. It offers additional monthly use for Plus subscribers and unlimited monthly use for Premium customers.
Founded in 2007, Evernote is one of the most successful app-centric startups today. The company raised around $70 million fund since then and have offices in more than 10 global locations.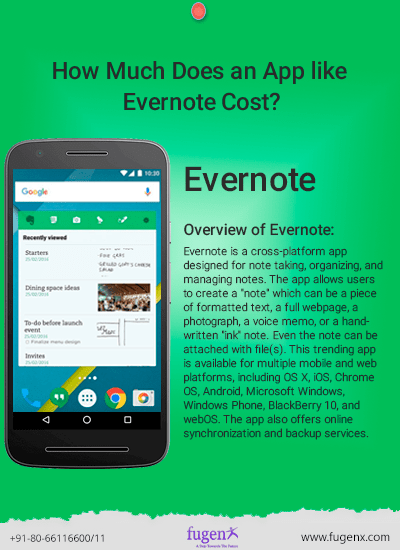 Core Features of Evernote App:
Write, capture and gather ideas as searchable notes, notebooks, checklists and to-do lists
Take notes in any format, including text, sketches, photos, audio, video, PDFs, and web clippings
Use camera to capture or scan photo and comment on it, as well as comment on the captured printed documents, business cards, handwritten documents and sketches
Easily organize your receipts, bills and invoices
Use Evernote as a digital notepad or word processor
You can synchronize the noted document across any computer, phone or tablet
Share the created document with anyone you desire
Cost Deciding Factors of Evernote like App
Evernote like app need to comprise a large set of data that can be PDF files, images and word documents. So it needs a heavy and robust backend. Below are some other factors that decide the cost of Evernote like app:
App Design:
Good design is a key ingredient to make users use the app as a repeated user. So good design obviously costs more, but by using the best design practices, the cost can be reduced for a large extent.
App platform:
Evernote like app on Android platform is relatively costlier than on Android platform, but with the agility in the work process, the cost for Android can be brought down.
App Size:
App size forms the total number of features and functionalities the app will comprise. If you're very serious about the cost, you can keep the only core features in version 1 of the app. We'll help you decide the best features your app need.
How much FuGenX charges to develop Evernote like app?
We at FuGenX are a Deloitte award-winning global mobile app development company. We help you develop Evernote like app at an affordable cost. We do it for all trending platforms like iOS, Android and Windows.
Please reach us at info@fugenx.com or fill up the form. Get instant quote now.